Conil de la Frontera, an excellent tourist destination
This rural house belongs to the beautiful village of Conil de la Frontera, a typical Andalusian town where the Arab influence is evident in its narrow streets, low white houses, patios and small squares.
This village on the Costa de la Luz looks out over the sea but does not forget the countryside. Its location between woods and pine forests and the sea, make it a very special place with an impressive aesthetic beauty.
Spectacular villa for rent in Conil de la Frontera
This jewel of a villa is located in a rural area of Conil surrounded by meadows and fields. The village and the beaches are 12 min / 8 km away. The house is built on a single floor of 160 m2 and has four bedrooms, two bathrooms and a very spacious full kitchen.
The large tropical garden of 1.500 m2 has several terraces with a barbecue area and a private swimming pool of 10×5 m with a Roman staircase that will make your stay in the accommodation a few days of real relaxation.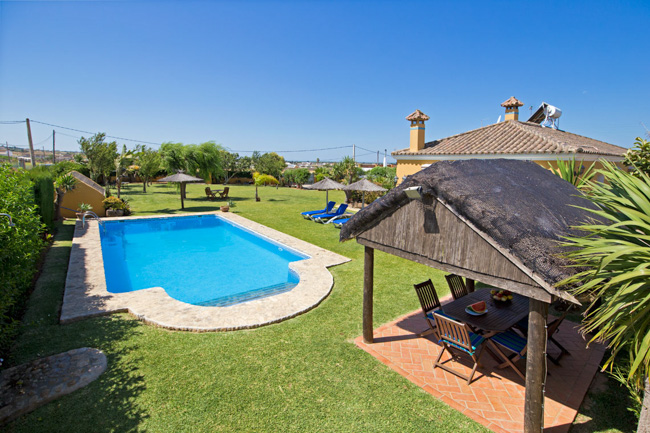 A place that guarantees tranquillity
The place where the house is located is very quiet, an open space that provides us with serenity, with beautiful gardens and beautiful flowers all over the terrace. You will take away an unforgettable memory.
The whole villa is fenced in for privacy, but at no time does it give us the feeling that it is an enclosed space, on the contrary, it is an open and clear area.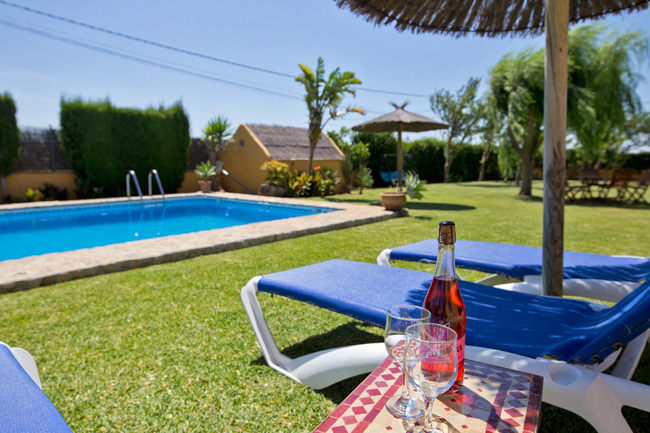 The entrance is very romantic, a path of flowers leads us to a wonderful porch. This occupies the whole extension of the facade, it is a place with shade and garden furniture, as a set of chairs and a great table if we want to eat in a more sheltered place.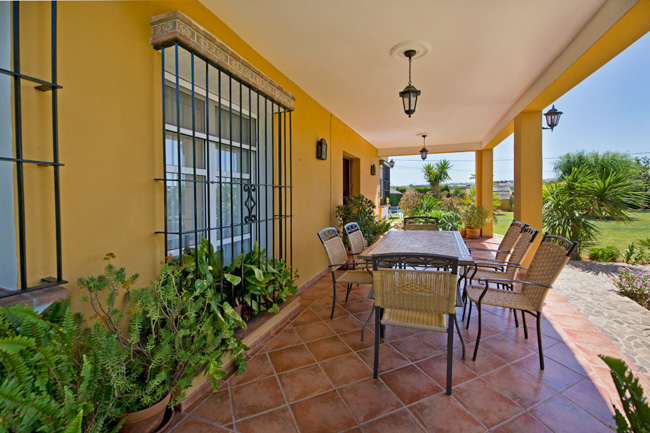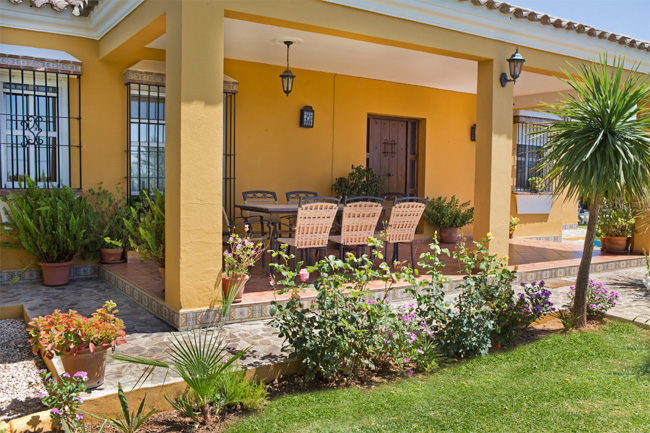 The garden and the swimming pool are the soul of the house
The exteriors of the house are impressive, some of the best to be found on the Costa de la Luz. 1.500 m2 of gardens say it all, a 10×5 m swimming pool with a Roman staircase. Private parking for up to 4 vehicles.
A Caribbean style pergola has been installed on the terrace, it is an ideal place to have a good meal with the help of the barbecue that is right next door. The barbecue has a sink with running water.
The interiors are very warm
The house has 160 m2 of interior space and is well distributed. At the entrance there is a nice corridor that leads to the different rooms. On one side we find a very spacious living room, with a dining table, sofas, television and the complete kitchen.
There is another independent room that we can also use as a living room, it is a reading and relaxing room, with sofas, table with chairs, all the furniture of great quality.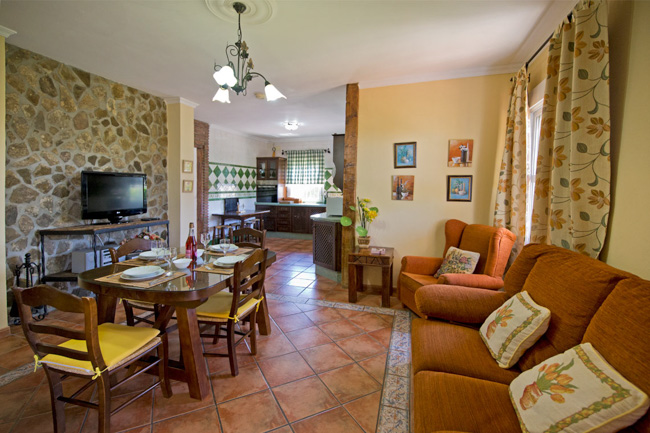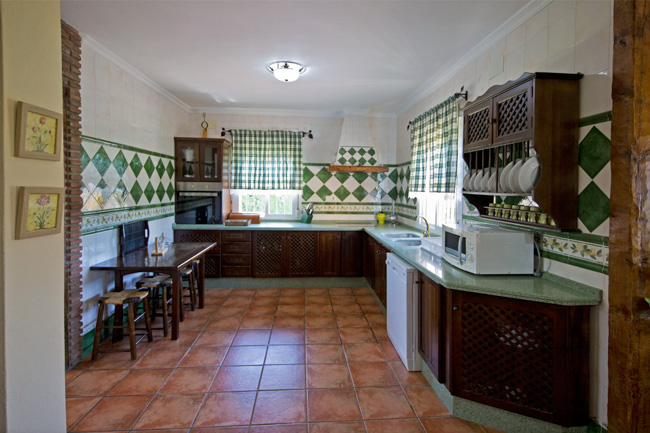 The rooms have four bedrooms, two of them with double beds and the other two with two single beds each. All of them have windows and built-in wardrobes. The house has two complete bathrooms, one with a bathtub and the other with a shower tray.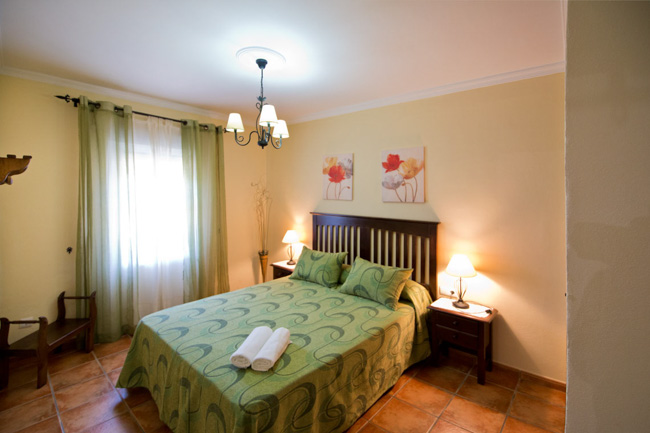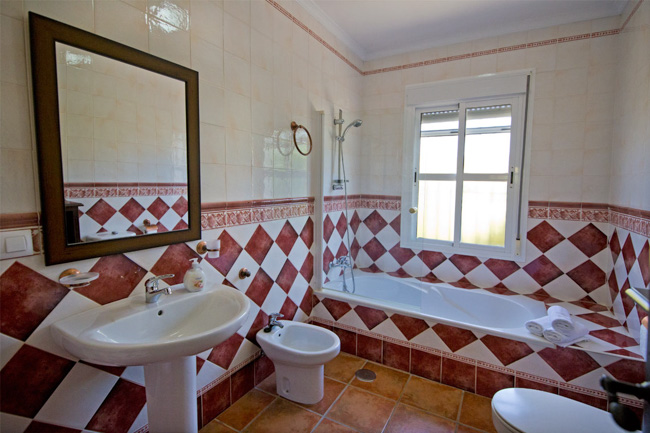 Bedrooms and Bathrooms
Bedroom 1: Double bed
Bedroom 2: Double bed
Bedroom 3: 2 Single beds
Bedroom 4: 2 Single beds
Bathroom 1: Toilet | Bathtub | Bidet
Bathroom 2: Toilet | Shower | Bidet

Exterior Features
Private swimming pool
Garden with lawn
Garden furniture
Private parking space
Private Plot
Views of the countryside

Interior Features
Satellite TV
CD player
Internet
Oven
Refrigerator with freezer
Microwave
Coffee maker (Italian and filter)
Washing machine
Dishwasher
Fireplace
Sheets and towels
Small electrical appliances: Toaster, Complete kitchen equipment, Juicer, Kettle, Mixer, Iron, Ironing board, Hair dryer.
Terms and conditions
Entry time: 16:00 p.m.
Departure time: 10:00 a.m.
Animals allowed: consult
Extra bed: 1
Deposit: 200 €
Young groups not allowed
No parties allowed
Unfenced swimming pool
* The final price includes: Cleaning, internet, electricity, gas, bed linen and bath towels.
DISTANCES AND EXCURSIONS
| | | |
| --- | --- | --- |
| Cádiz | 40 min | 50 Km |
| Jerez | 50 min | 60 Km |
| Jerez Airport | 50 min | 70 Km |
| Sevilla | 100 min | 150 Km |
| Sevilla Airport | 90 min | 160 Km |
| Ronda | 120 min | 175 Km |
| Marbella | 120 min | 160 Km |
| Málaga | 150 min | 230 Km |
| Málaga Airport | 140 min | 220 Km |
* The distances provided are calculated from the population of the accommodation
PRICES
Season
From
To
7 Nights
January
2022-01-01
2022-01-31
750.00 €
2023-01-01
2023-01-31
February
2022-02-01
2022-02-28
750.00 €
2023-02-01
2023-02-28
March
2022-03-01
2022-03-31
750.00 €
2023-03-01
2023-03-31
April
2022-04-01
2022-04-30
750.00 €
2023-04-01
2023-04-30
May
2022-05-01
2022-05-31
850.00 €
2023-05-01
2023-05-31
June
2022-06-01
2022-06-30
1,250.00 €
2023-06-01
2023-06-30
1-15 July
2022-07-01
2022-07-15
1,790.00 €
2023-07-01
2023-07-15
16-31 July
2022-07-16
2022-07-31
1,790.00 €
2023-07-16
2023-07-31
1-15 August
2022-08-01
2022-08-15
2,090.00 €
2023-08-01
2023-08-15
16-31 August
2022-08-16
2022-08-31
2,090.00 €
2023-08-16
2023-08-31
September
2022-09-01
2022-09-30
1,250.00 €
2023-09-01
2023-09-30
October
2022-10-01
2022-10-31
850.00 €
2023-10-01
2023-10-31
November
2022-11-01
2022-11-30
750.00 €
2023-11-01
2023-11-30
December
2022-12-01
2022-12-31
750.00 €
2023-12-01
2023-12-31
Related articles
Aquí le enseñamos artículos relacionados con el destino
El Acebuchal is a lost village in the geography of Andalusia, a mysterious and beautiful place to wander and get lost in. I discovered it by chance years ago and now it has flourished with an extraordinary restoration work. A magnificent hidden paradise

La Axarquía, between the sea and the mountains. La Axarquía is a mountainous landscape with olive trees and vineyards, valleys with mangoes and avocados, white houses coloured with flowers, beautiful beaches in Mediterranean style and above all good people. A wonderful destination.