The best climate in Europe, Nerja
The sun shines practically all year round and the sea breeze softens the temperatures in summer. The climate is unique in all of Europe, presenting characteristics of tropical climates but with the difference that there is hardly any humidity. Given these conditions, exotic fruits can be grown. The house is surrounded by plantations of mangoes, avocados, papayas, guavas and bananas belonging to neighbouring properties.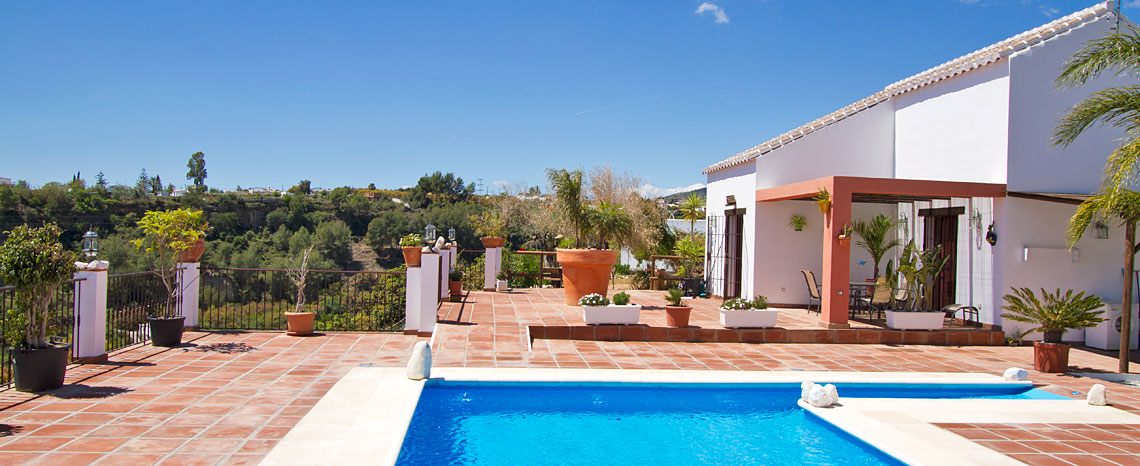 Wonderful newly built accommodation
The house is built on a plot of 3,000 m2, completely fenced and has a security gate. At the entrance there is a large plain and a garden full of palm trees. Special mention should be made of the organic garden planted by the owner.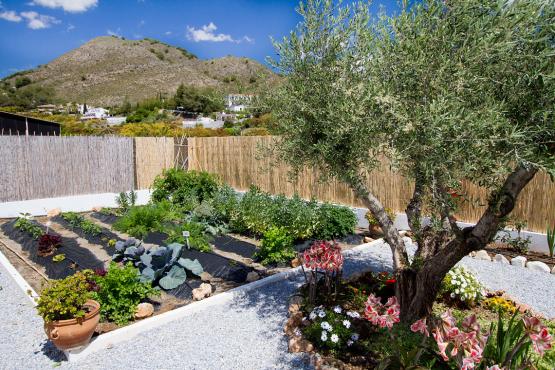 Surrounded by mountains and orchards
Once we enter the useful areas we instantly realise that the terrace is on one floor, it is an area open to the sky, the mountains, the sea and all the fields. There is a railing at the southern end that closes the terrace and is a real viewpoint where you can lose yourself in the countryside and enjoy the sea in the background.
A place that guarantees peace of mind
Everything is quiet, as we are in a rural area far from the noises and where no cars pass by, the only sound we will hear is that of the birds, the countryside and the wind, and sometimes we can hear the murmur of the sea. Nerja and its beaches are only 12 minutes away by car.
The swimming pool and the terrace elements
On the terrace we find a very peculiar swimming pool, with dimensions of 10×5 and an easy entrance slide. All over the terrace there are outdoor furniture, such as parasols, sunbeds and a table for eating. The whole space is dotted with tropical plants that blend in perfectly with the colours of the surroundings and the house, creating a stage full of nuances.
For lunch in the open air
Attached to the house is a wonderful porch with chairs and tables, and an entrance directly to the bedroom. This space is highly recommended for lunch outside. Right next door is a covered area with a portable barbecue and washing machine.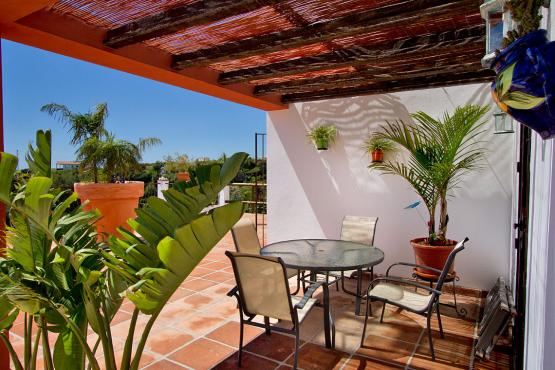 The interior is very pleasant
The interiors can be entered either through the bedroom or the living room. Entering through the living room we are welcomed by a fresh white space, with many shades of orange, so the whole house is very romantic and at the same time summer, everything thought for the comfort of a couple. In the lounge we find a comfortable sofa and a dining table, the kitchen is at the back of the room and is completely new and complete with appliances.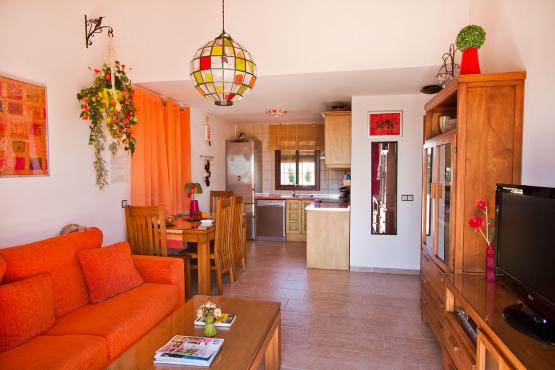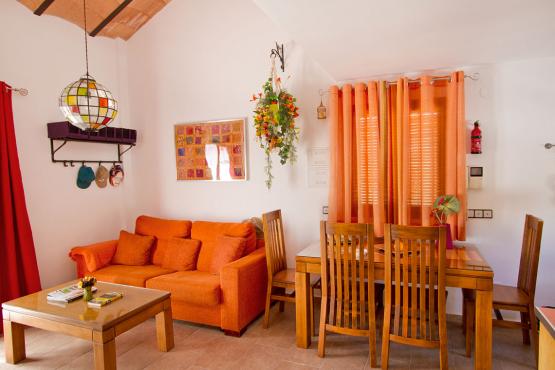 Going on we find a corridor that leads us to a nice bathroom and to the only bedroom the house has. It is very bright and cool, with a window at one end and a sliding door to the porch at the other. For the warmest, the bedroom has air conditioning.

Bedrooms and Bathrooms
Bathroom 2: Toilet | Shower

Exterior Features
Private swimming pool
Garden furniture
Private parking space
Private Plot
Views of the countryside
Sea views

Interior Features
Satellite TV
Internet
Air Conditioning
Oven
Refrigerator with freezer
Microwave
Toaster
Washing machine
Dishwasher
Fireplace
Sheets and towels
DISTANCES AND EXCURSIONS
| | | |
| --- | --- | --- |
| Málaga | 40 min | 55 Km |
| Málaga Airport | 50 min | 75 Km |
| Granada | 60 min | 100 Km |
| Granada Airport | 80 min | 115 Km |
| Marbella | 90 min | 120 Km |
| Ronda | 130 min | 180 Km |
| Sevilla | 180 min | 260 Km |
* The distances provided are calculated from the population of the accommodation
PRICES
Season
From
To
7 Nights
January
2022-01-01
2022-01-31
620.00 €
2023-01-01
2023-01-31
February
2022-02-01
2022-02-28
620.00 €
2023-02-01
2023-02-28
March
2022-03-01
2022-03-31
620.00 €
2023-03-01
2023-03-31
April
2022-04-01
2022-04-30
750.00 €
2023-04-01
2023-04-30
May
2022-05-01
2022-05-31
750.00 €
2023-05-01
2023-05-31
June
2022-06-01
2022-06-30
890.00 €
2023-06-01
2023-06-30
1-15 July
2022-07-01
2022-07-15
1,225.00 €
2023-07-01
2023-07-15
16-31 July
2022-07-16
2022-07-31
1,225.00 €
2023-07-16
2023-07-31
1-15 August
2022-08-01
2022-08-15
1,225.00 €
2023-08-01
2023-08-15
16-31 August
2022-08-16
2022-08-31
1,225.00 €
2023-08-16
2023-08-31
September
2022-09-01
2022-09-30
890.00 €
2023-09-01
2023-09-30
October
2022-10-01
2022-10-31
620.00 €
2023-10-01
2023-10-31
November
2022-11-01
2022-11-30
620.00 €
2023-11-01
2023-11-30
December
2022-12-01
2022-12-31
620.00 €
2023-12-01
2023-12-31
Related articles
Aquí le enseñamos artículos relacionados con el destino
El Acebuchal is a lost village in the geography of Andalusia, a mysterious and beautiful place to wander and get lost in. I discovered it by chance years ago and now it has flourished with an extraordinary restoration work. A magnificent hidden paradise

La Axarquía, between the sea and the mountains. La Axarquía is a mountainous landscape with olive trees and vineyards, valleys with mangoes and avocados, white houses coloured with flowers, beautiful beaches in Mediterranean style and above all good people. A wonderful destination.