A very special accommodation
This country house is highly recommended for everyone, a very exclusive accommodation in which for a few days we will connect with the atmosphere of La Alpujarra and be in tune with the nature around us.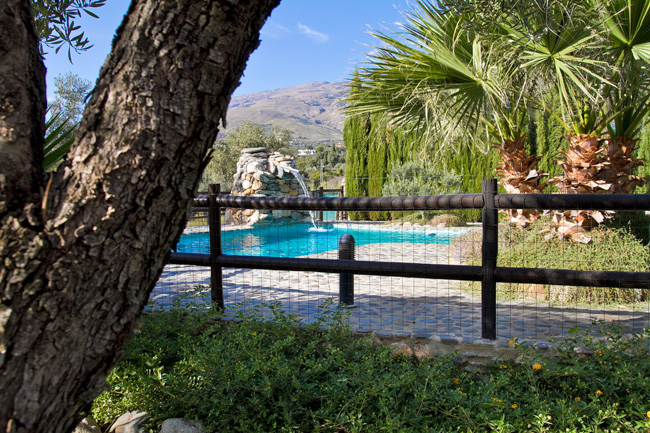 The place is authentic, in a beautiful place we find this property of 5.000 m2 of private gardens. Upon entering there is a large gate and we can see how a stone wall fences off the entire property. Two olive trees of more than 300 years old welcome us, on the left a garage for two vehicles, on the right a direct access to the terrace with the swimming pool.
Nice details on the terrace
After passing a small wooden bridge we have the house together with a large plot, where we find beautiful details that enlarge the accommodation, such as a beautiful pergola with a large stone table, with rustic seats with wooden trunks and a roofed barbecue.
The house is typical of the Alpujarras, made of stone. At the entrance there is a table located under a hundred-year-old olive tree, from here we will have wonderful views of the Sierra de Lujar.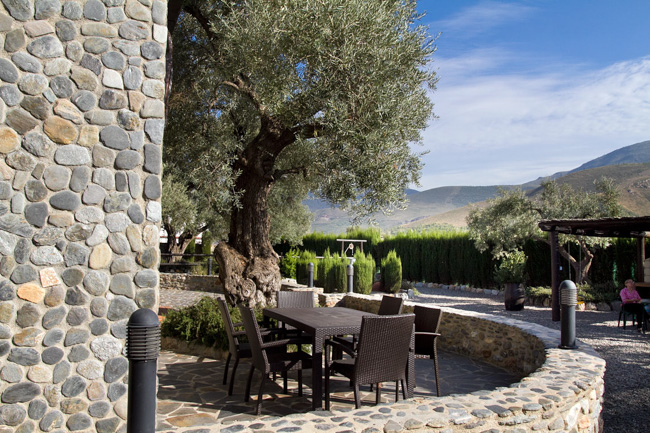 Once past the house is the pool area, it is an idyllic place that we access through a beautiful garden that is fully lit at night. At the end of the path there is a security gate to access the pool area.
The pool area is very natural and has details worth mentioning such as an ideal pergola for resting and being in the shade when the sun shines on the hottest days.
The pool is located in an open place with lots of sun until late hours of the day. It has dimensions of 8×4 m with a Roman staircase. A nice detail is the refreshing water pipe that falls inside.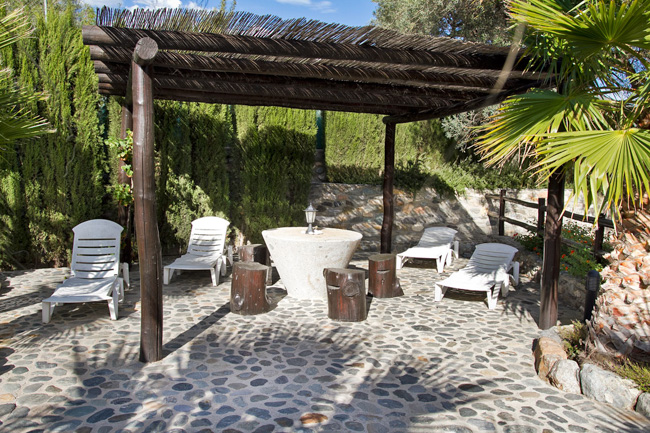 Right next to the swimming pool we find a leafy garden, with areas of grass, trees and beautiful flowers.
The house has two totally exclusive leisure areas, a football field and a volleyball field next to the house for the exclusive use of the clients, both of considerable size.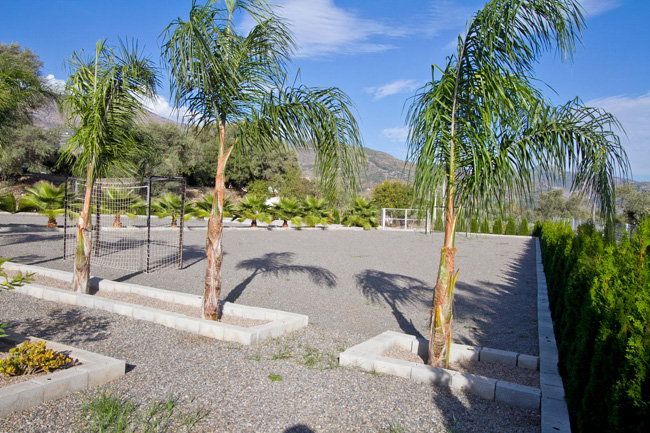 The interiors – the living room and the kitchen
The interiors are very warm, the decoration is purely rustic, with Alpujarra style beams, beautiful arches, wooden furniture, living room with fireplace, all distributed on two levels. Firstly we find the living room with two accesses to the outside, on the left on a higher level the kitchen.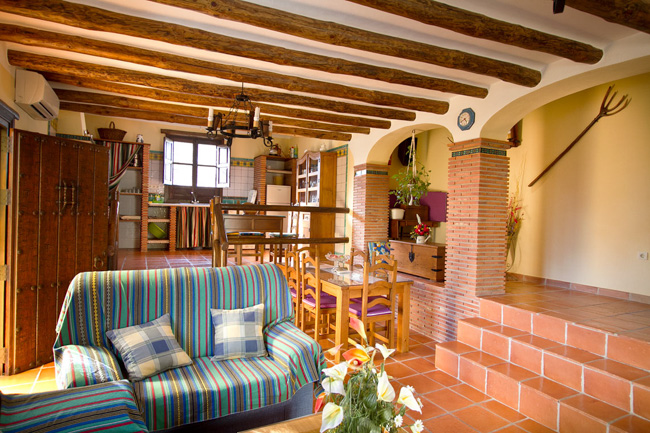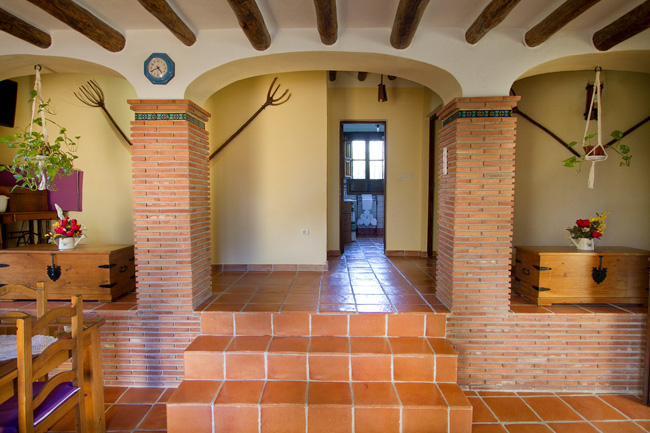 3 bedrooms and a bathroom
At the same level as the kitchen we find the access to the rooms. It has 3 bedrooms and a bathroom, the main bedroom with a double bed, the other two with two single beds each. The bathroom has a shower tray.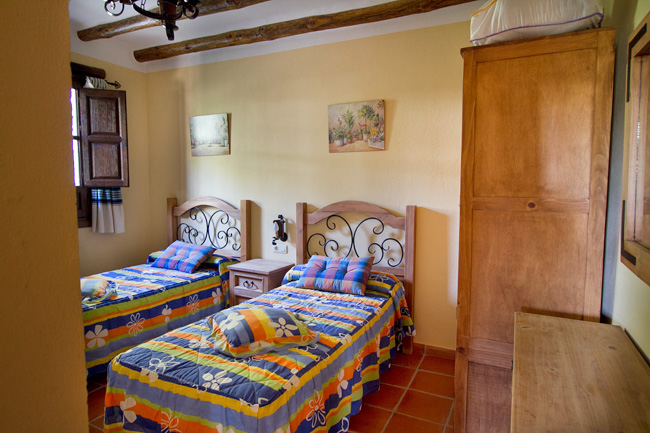 Bedrooms and Bathrooms
Bedroom 2: 2 Single beds
Bedroom 3: 2 Single beds
Bathroom 1: Toilet | Shower | Bidet

Exterior Features
Private swimming pool
Fenced swimming pool
Garden with lawn
Garden furniture
Private parking space
Private Plot
Views of the countryside

Interior Features
Satellite TV
CD player
Internet
Air Conditioning
Oven
Refrigerator with freezer
Microwave
Toaster
Washing machine
Dishwasher
Fireplace
Sheets and towels
DISTANCES AND EXCURSIONS
| | | |
| --- | --- | --- |
| Beach | 35 min | 35 Km |
| Motril | 35 min | 35 Km |
| Almuñecar | 45 min | 45 Km |
| Málaga Airport | 90 min | 125 Km |
| Granada | 60 min | 55 Km |
| Granada Airport | 60 min | 70 Km |
| Pueblos Alpujarra Alta | 30 min | 20 Km |
| Córdoba | 165 min | 250 Km |
| Sevilla | 195 min | 300 Km |
* The distances provided are calculated from the population of the accommodation
PRICES
Season
From
To
7 Nights
January
2022-01-01
2022-01-31
600.00 €
2023-01-01
2023-01-31
February
2022-02-01
2022-02-28
600.00 €
2023-02-01
2023-02-28
March
2022-03-01
2022-03-31
600.00 €
2023-03-01
2023-03-31
April
2022-04-01
2022-04-30
600.00 €
2023-04-01
2023-04-30
May
2022-05-01
2022-05-31
850.00 €
2023-05-01
2023-05-31
June
2022-06-01
2022-06-30
850.00 €
2023-06-01
2023-06-30
1-15 July
2022-07-01
2022-07-15
1,300.00 €
2023-07-01
2023-07-15
16-31 July
2022-07-16
2022-07-31
1,300.00 €
2023-07-16
2023-07-31
1-15 August
2022-08-01
2022-08-15
1,300.00 €
2023-08-01
2023-08-15
16-31 August
2022-08-16
2022-08-31
1,300.00 €
2023-08-16
2023-08-31
September
2022-09-01
2022-09-30
850.00 €
2023-09-01
2023-09-30
October
2022-10-01
2022-10-31
600.00 €
2023-10-01
2023-10-31
November
2022-11-01
2022-11-30
600.00 €
2023-11-01
2023-11-30
December
2022-12-01
2022-12-31
600.00 €
2023-12-01
2023-12-31
El jardín y la piscina son simplemente fantásticos
Increíble la paz y tranquilidad de la zona. El jardín y la piscina son simplemente fantásticos, todo está pensado para que disfrutes de(...)
A fantastic experience in the Alpujarras
Lovely accommodation, with a beautiful garden and very welcoming owners. A fantastic experience in the Alpujarra.
Une expérience très agréable dans un très bel endroit
Le chalet était très bien équipé, les espaces extérieurs sont très spacieux, et trois choses sont à souligner : les beaux jardins(...)
Related articles
Aquí le enseñamos artículos relacionados con el destino
El Acebuchal is a lost village in the geography of Andalusia, a mysterious and beautiful place to wander and get lost in. I discovered it by chance years ago and now it has flourished with an extraordinary restoration work. A magnificent hidden paradise

La Axarquía, between the sea and the mountains. La Axarquía is a mountainous landscape with olive trees and vineyards, valleys with mangoes and avocados, white houses coloured with flowers, beautiful beaches in Mediterranean style and above all good people. A wonderful destination.