A typical white house in the area
This accommodation with its wonderful views has a lot of charm and is in an ideal place to relax and enjoy the Mediterranean lifestyle. The location is magnificent! The place is very quiet, away from the urban noises.

Taking the road from the motorway to Frigiliana there is a small group of white houses where the old bakery used to be, without leaving the road at any time and 5 minutes from the village is this beautiful village.
The access is easy, once you take the detour and find the small group of houses, one of them will be our accommodation. The location is unbeatable as it is 2 km from Frigiliana and 4 km from Nerja with its beaches and tourist life.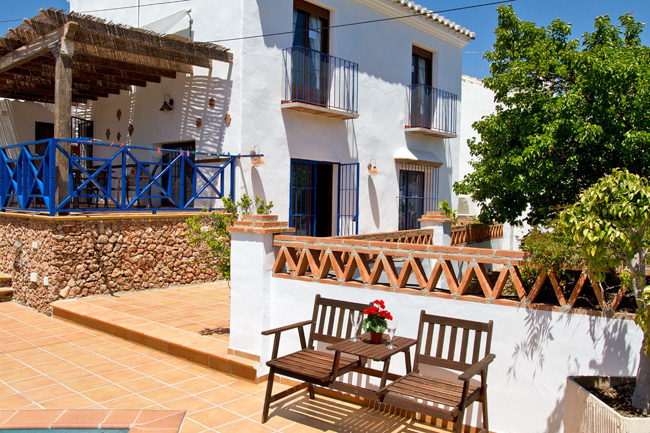 The terrace area with pergola
The property is totally enclosed and fenced, the house has two entrances, one from the pool area and one from the street. In the outside area it has a terrace with a wonderful wooden pergola and a dining table.
In this area we also find the barbecue, which is an ideal space for lunch or to enjoy the views and the gentle breeze coming from the mountains.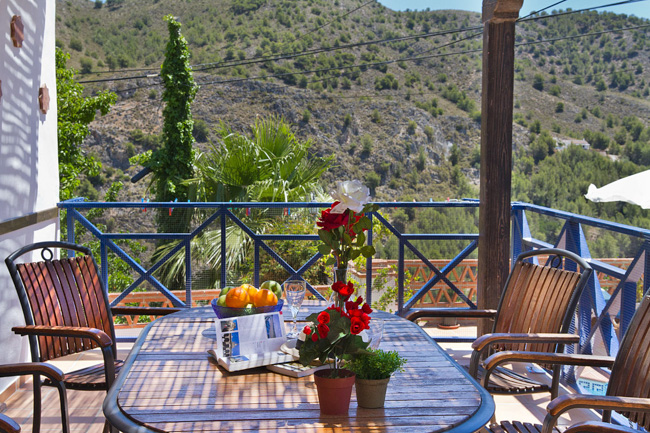 A beautiful private swimming pool
Descending a small staircase we find the pool area, designed with an irregular shape and easy to enter steps. The pool is 8×4 m in size. The terrace is perfectly secured with a stone wall dotted with plants and a rustic balustrade of 1 m that allows us to enjoy panoramic views.
Impressive views of the sea and the mountains
The views from the terrace are simply breathtaking, the Almijara Natural Park to the north-east and the Mediterranean Sea to the south.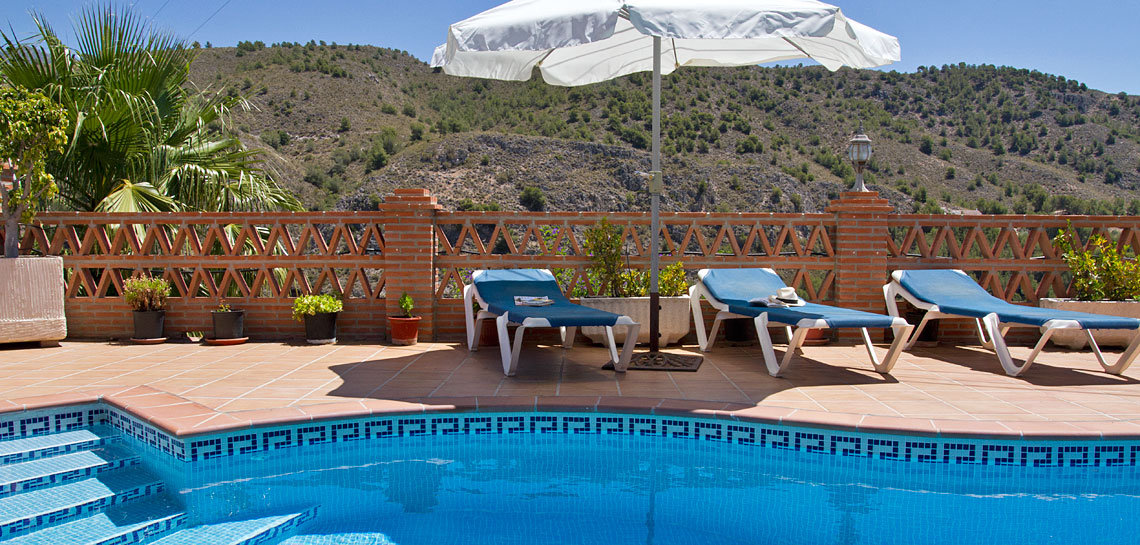 The terrace has outdoor furniture to make our stay more comfortable, there are hammocks, parasols and beautiful wooden benches.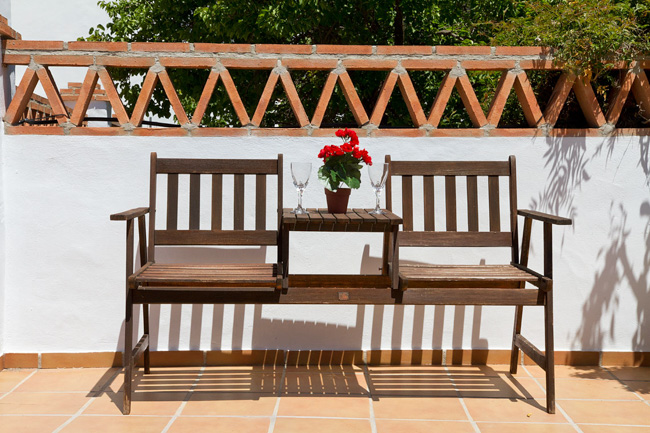 The interiors – kitchen and living room
In the interiors we found a hall to the entrance, to the left the kitchen with exit to the pergola of the terrace (the kitchen this complete of household-electrics) to the right a bath, lowering the stairs a hall with much enchantment, where there is a set of sofas, the television and to a side a pretty table dining room. The living room has direct access to the swimming pool.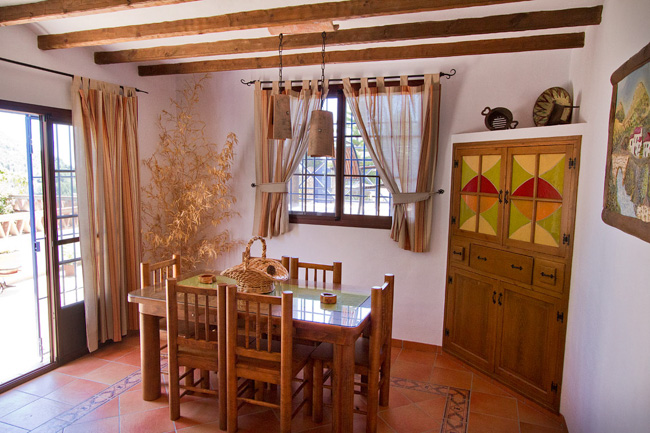 The interiors – the bedrooms
The distribution of the interiors is made in three floors, below the living room, in an intermediate level the kitchen and above the rooms. In this area we find the three bedrooms, one of them has a double bed, the others have two single beds each. All the bedrooms have balconies and views of the mountains.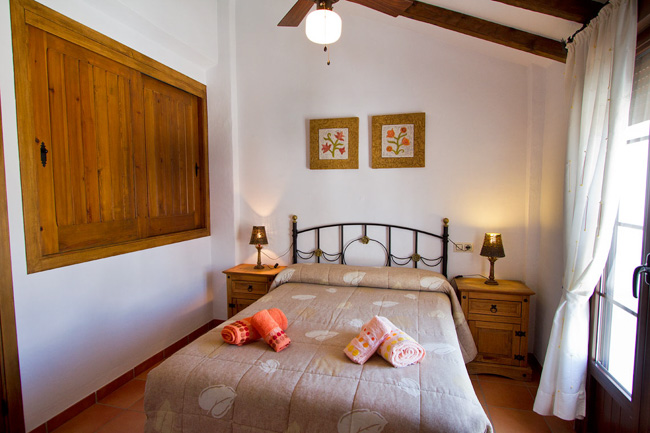 Bedrooms and Bathrooms
Bedroom 2: 2 Single beds
Bedroom 3: 2 Single beds
Bathroom 1: Toilet | Bathtub
Bathroom 2: Toilet | Shower

Exterior Features
Private swimming pool
Garden furniture
Private parking space
Private Plot
Views of the countryside
Sea views

Interior Features
Satellite TV
CD player
Air conditioning (3 bedrooms)
Oven
Refrigerator with freezer
Microwave
Coffee machine (Filter)
Washing machine
Dishwasher
Fireplace
Sheets and towels
Small electrical appliances: Complete kitchenware, Toaster, Juicer, Blender, Kettle, Iron, Ironing board, Hair dryer.
Terms and conditions
Check in time: 15:00 p.m.
Departure time: 10:00 a.m.
Pets allowed: Consult us
Deposit: 200 €.
Young groups not allowed
Parties not allowed
Swimming pool fenced by a fence system.
* The final price includes: cleaning, internet, electricity, gas, bed linen and bath towels.
DISTANCES AND EXCURSIONS
| | | |
| --- | --- | --- |
| Beach | 15 min | 8 Km |
| Nerja | 15 min | 8 Km |
| Malaga | 40 min | 55 Km |
| Malaga Airport | 50 min | 75 Km |
| Granada | 60 min | 100 Km |
| Granada Airport | 80 min | 115 Km |
| Marbella | 90 min | 120 Km |
| Ronda | 130 min | 180 Km |
| Sevilla | 180 min | 260 Km |
* The distances provided are calculated from the population of the accommodation
PRICES
Season
From
To
7 Nights
January
2022-01-01
2022-01-31
700.00 €
2023-01-01
2023-01-31
February
2022-02-01
2022-02-28
700.00 €
2023-02-01
2023-02-28
March
2022-03-01
2022-03-31
700.00 €
2023-03-01
2023-03-31
April
2022-04-01
2022-04-30
700.00 €
2023-04-01
2023-04-30
May
2022-05-01
2022-05-31
750.00 €
2023-05-01
2023-05-31
June
2022-06-01
2022-06-30
1,000.00 €
2023-06-01
2023-06-30
1-15 July
2022-07-01
2022-07-15
1,300.00 €
2023-07-01
2023-07-15
16-31 July
2022-07-16
2022-07-31
1,300.00 €
2023-07-16
2023-07-31
1-15 August
2022-08-01
2022-08-15
1,500.00 €
2023-08-01
2023-08-15
16-31 August
2022-08-16
2022-08-31
1,500.00 €
2023-08-16
2023-08-31
September
2022-09-01
2022-09-30
1,000.00 €
2023-09-01
2023-09-30
October
2022-10-01
2022-10-31
850.00 €
2023-10-01
2023-10-31
November
2022-11-01
2022-11-30
750.00 €
2023-11-01
2023-11-30
December
2022-12-01
2022-12-31
750.00 €
2023-12-01
2023-12-31
Wonderful house and owners
We can only speak highly of this property and the owners. The check-in was very easy, the owner was there and was very kind to us. The(...)
It is a villa that I could recommend to any family
Good access to the house and well communicated with the beaches of Nerja and Frigiliana, 10 minutes away. The house is lovely with(...)
Related articles
Aquí le enseñamos artículos relacionados con el destino
El Acebuchal is a lost village in the geography of Andalusia, a mysterious and beautiful place to wander and get lost in. I discovered it by chance years ago and now it has flourished with an extraordinary restoration work. A magnificent hidden paradise

La Axarquía, between the sea and the mountains. La Axarquía is a mountainous landscape with olive trees and vineyards, valleys with mangoes and avocados, white houses coloured with flowers, beautiful beaches in Mediterranean style and above all good people. A wonderful destination.