The Acebuchal
Discover The Acebuchal. Here you will find some recommendations, photographs of the route and its surroundings, a map of distances to places, comments from travelers…
THE acebuchal BY
Enrique Carrillo
info@andaluciasimple.com
Telf. 653 91 62 21
AndaluciaSimple.com
The Acebuchal, a picturesque hamlet
The Acebuchal is a lost village in the geography of Andalusia, a mysterious and beautiful place to wander and get lost in. I discovered it by chance years ago and now it has flourished with an extraordinary restoration work. A magnificent hidden paradise
Around 2008 I took the road from Nerja to Frigiliana, there I asked for a place from where I could get a panoramic view of Nerja, Frigiliana and the Mediterranean Sea, a local resident pointed me to the Pedregal path, one of the highest areas of Frigiliana where I took some photographs, Once the session was over I found a lane leading to the heart of the Sierra de Almijara and a sign pointing to "el Pedregal", a mysterious path that out of curiosity I started to walk along and was pleasantly surprised. I arrived at a small village that was like a pretty street in Frigiliana in the middle of the Natural Park of the Sierra de Almijara, my eyes could not believe such beauty, I had arrived at The Acebuchal.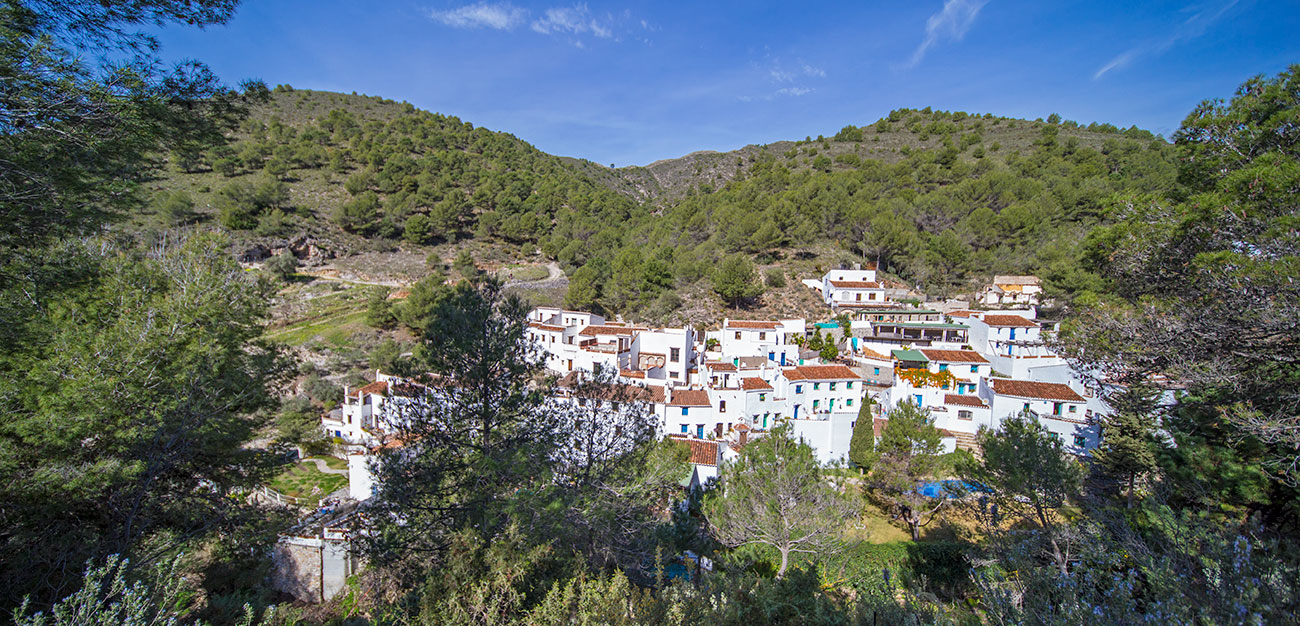 Near Nerja and close to Frigiliana
It takes about 20 minutes and 9 km from Frigiliana to The Acebuchal. To get there we have to cross a fully accessible track of less than 2 km through a Mediterranean pine forest, which can be done either on foot or by car. The Acebuchal is located within the Natural Park of the Sierra de Tejeda, Almijara and Alhama. It borders Frigiliana and Competa, two of the most beautiful white villages of the Axarquia / Costa del Sol.
The Acebuchal is above all a paradise of tranquillity, located within the Almijara Natural Park. It has two streets, a chapel, a restaurant and various rural accommodation for rent. The whole area retains that aura of a charming white village, keeping affinity with the most beautiful villages of Andalusia. You could say that you are walking down any street in Vejer, Frigiliana or Setenil de las Bodegas … some of the most charming villages in Andalusia.
The layout of the village is made up of two steep cobbled streets, with typical white village architecture, with staggered stone slopes, houses that open onto fresh courtyards full of pots with plants and flowers, the result is a beautiful ensemble that seems to be alive with lots of contrast and many different colours on the white of its facades… A really picturesque layout, where every corner has its charm and a great work of beautification and restoration.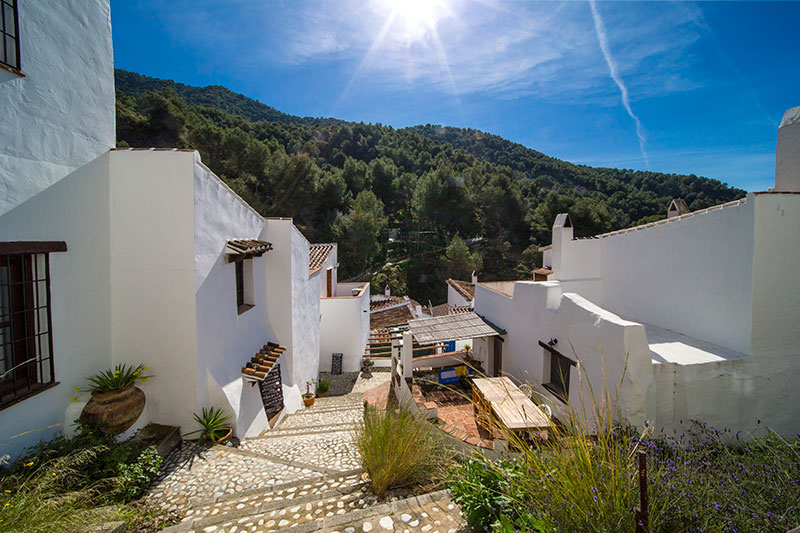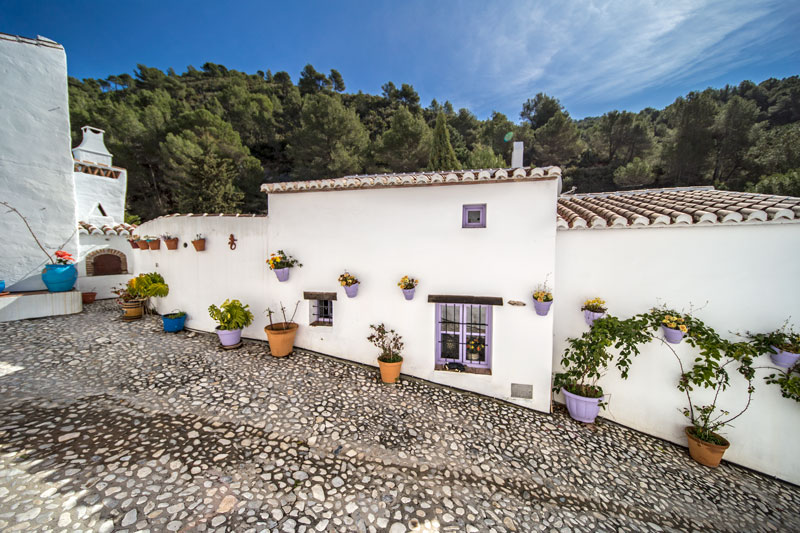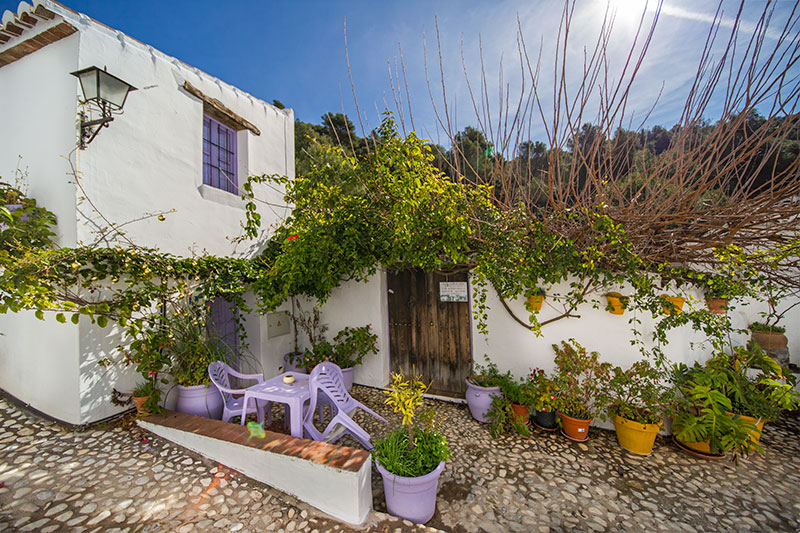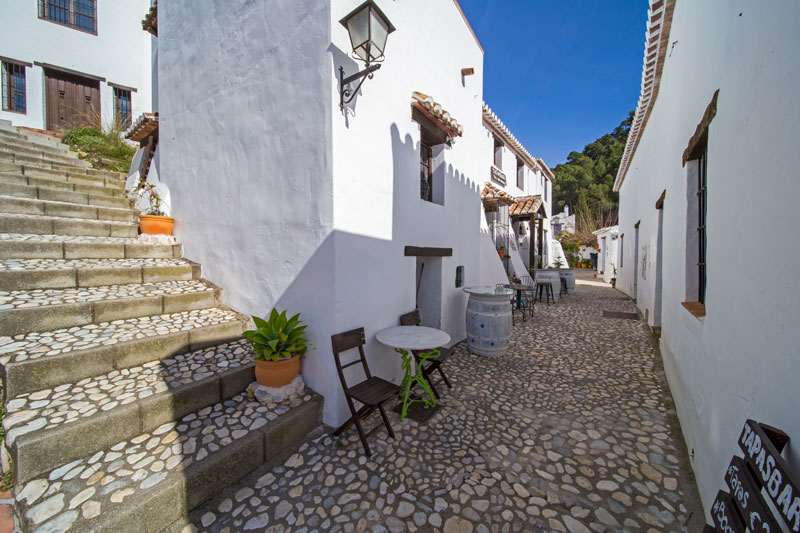 History of Acebuchal
The Acebuchal dates back to the 17th century, being at the beginning of its history a place of passage and rest for muleteers from Malaga and Granada. During the Spanish Civil War the village was declared Republican, but during the course of the war it was taken over by the Nationalist side, executions took place and some villagers hid in the mountains forming a resistance movement called "los Maquis".
Restoration
It remained abandoned for more than 50 years until a married couple, descendants of those families who lived in Acebuchal, decided to buy plots of land and restore the village. They embarked on an adventure that, with a lot of initiative, sacrifice and the help of other neighbours and relatives of the former inhabitants, became a reality. It is worth noting that part of the restoration was done without electricity and water supply.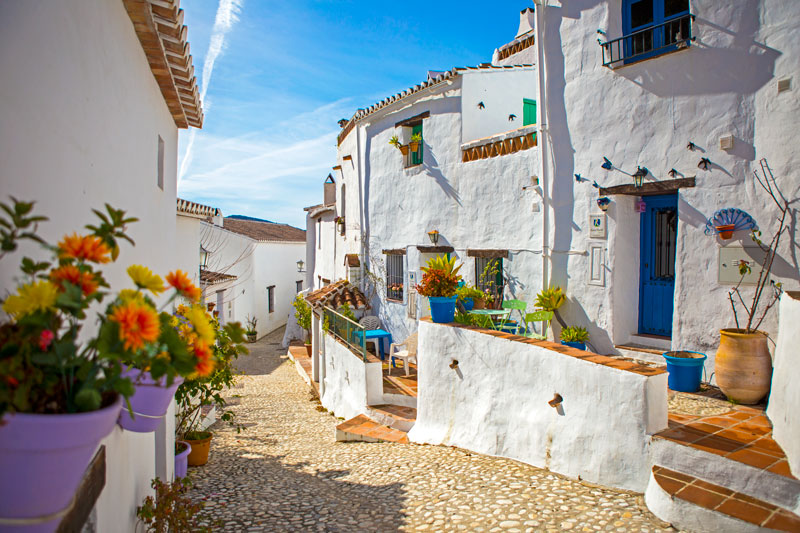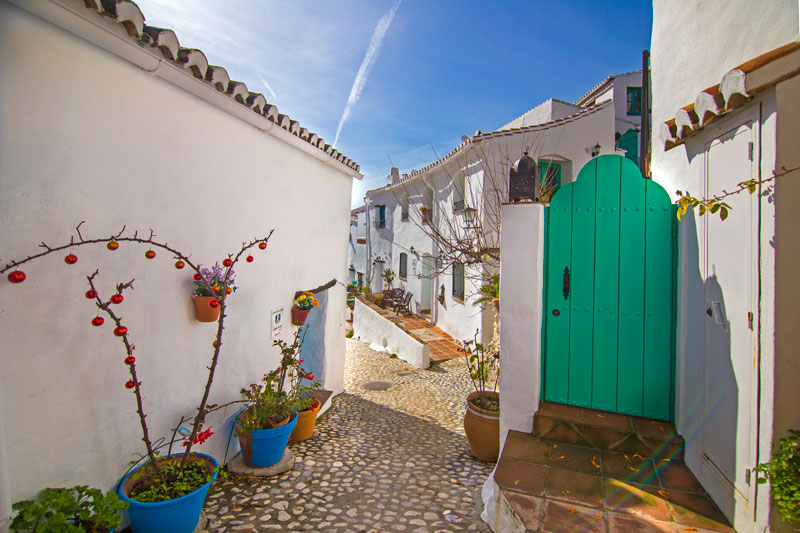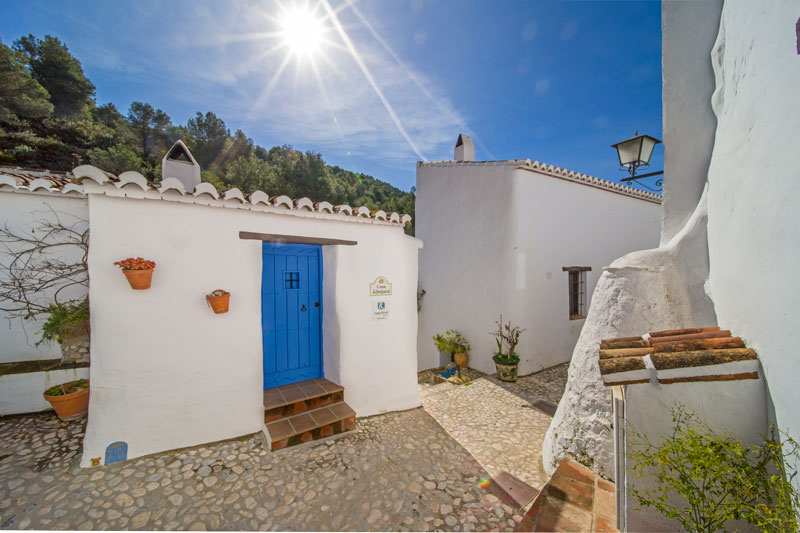 There are several green routes in the area, one of them is the one that separates The Acebuchal from Competa. A good idea would be to take a hiking route and end up having lunch in the restaurant of El Acebuchal. It is 100% recommendable, with fresh produce from the Axarquia market garden, freshly baked bread and some rare and exquisite meats. * We tasted croquettes and charcuterie made from local game meat, accompanied by exquisite bread (freshly baked) with olive oil and oregano.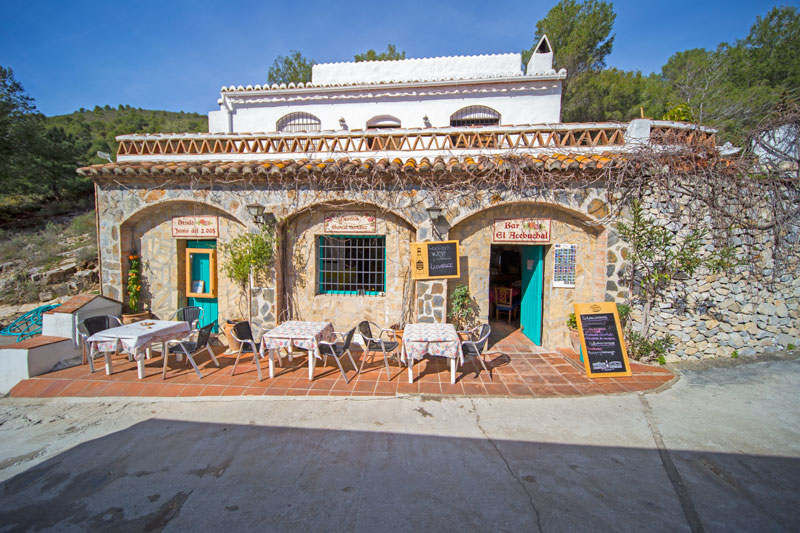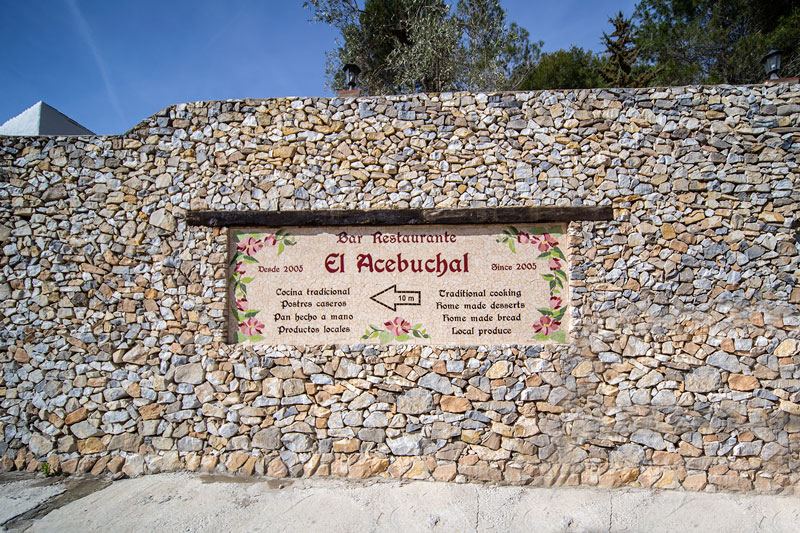 Our houses in The Acebuchal
All the accommodations have been lovingly restored and each one has its own special charm. From AndalcuciaSimple we can offer you flats and houses with 1, 2, 3 and 4 bedrooms, there is also the possibility to join several houses and reach a capacity of up to 14 people with 7 bedrooms. Accommodation with shared private pool, terrace and barbecue. Please contact us!
We have collected opinions from travellers, tourism websites, press and travel guide reviews
"A hidden paradise"
"It is a wonderful place with a lot of history, extremely quiet". The silence is only broken by visitors who come to the village to eat or spend a few days in the rented houses. Most of them are foreigners, especially Dutch, French, German and British. "The Spaniards only come at weekends," explains Antonio García Jr., who believes that foreigners value the history of Spain and the possibility of getting to know places like El Acebuchal in depth.
_Opinión.- Nacho Sánchez – Artículo de El País

"Exceptionally beautiful"
The atmosphere is exceptionally beautiful, ideal for relaxing and unwinding. Peace and nature are absolutely perfect in this idyllic and beautiful corner of Malaga.
_Opinión.- Marie – Francia

"A serene and beautiful place"
The hamlet of El Acebuchal is a monument to the simplicity that characterises the villages of Andalusia, a serene and beautiful place in the middle of the Almijara Natural Park, where you can lose yourself hiking.
_Opinión.- Antonio Carmona – España

"Straight out of a fairy tale"
A surprise and one of the most beautiful places we have ever visited, everything looked like something out of a fairy tale, in the heart of Andalusia.
_Opinión.- Elke – Alemania

* All translations of comments are automated through Google translate.