The best destinations in Andalusia
A world to be discovered in its villages, cities, natural parks, routes, beaches, gastronomy, culture, diversity and a lot of sun
Un viaje con estilo
Siempre pensamos en lo que nos gustaria a nosotros para un viaje. Buscamos la privacidad que ofrece una villa pero tambien para nosotros es importante que si el cliente decide explorar puede tener a menos de una hora las ciudades bellas de andalucia, por ello nuestras casa siempre estan a menos de una 1:30 horas de ciudades como Granada, Sevilla, Malaga ,Cordoba, Cadiz, Jerez o Ronda.

Alojamientos cerca del mar
Aunque usted no tenga planes de visitar la costa las villas que hemos elegido para nuestro catálogo no están relativamente lejos, tenemos alojamientos a menos de 1 kilometro y las más lejanas a un maximo
a dos horas. De modo que si desea estar en una villa de campo puede hacer una excursión a la costa Mediterranea sin que suponga un problema de
distancia.

Pueblos y Comarcas
Entre las 62 comarcas que posee Andalucía hemos seleccionado solo 4, son las que más nos gustan, las que para nosotros le encontramos un encanto especial, con bonitos pueblos alrrededor, hermosos
paisajes, zonas rurales con belleza singular y ciudades importantes cerca, y las que poder visitar.
We always think about what we would like for a trip. We look for the privacy that a villa offers but it is also important that if the client decides to explore, he can have the most beautiful cities of Andalusia at less than an hour away, that is why our houses are always less than 1:30 hours away from cities like Granada, Seville, Malaga, Cordoba, Cadiz, Jerez or Ronda.

Accommodation near the sea
Even if you have no plans to visit the coast, the villas we have chosen for our catalogue are not relatively far away, we have accommodations less than 1 kilometre away and the farthest ones at a maximum of two hours. So if you are in a country villa and you wish, you can make an excursion to the Mediterranean Coast without any problem of distance.
Among the 62 regions that Andalusia has, we have selected only 4, which are the ones that we like the most, those that for us have a special charm, with beautiful villages around, beautiful landscapes, rural areas with unique beauty and important cities nearby to visit.
Zones of our catalogue of villas
Places you have to discover
From the Mediterranean to the Atlantic
Fine sand beaches, ochre-coloured sunsets, white villages, wheat fields, giant mills, legendary lighthouses, crystal-clear waters, people with art, water sports. All this is the Costa de la Luz. You can't miss it for anything in the world. There are many reasons to visit the Costa de la Luz, but the main reason is that it has the best beaches in Andalusia.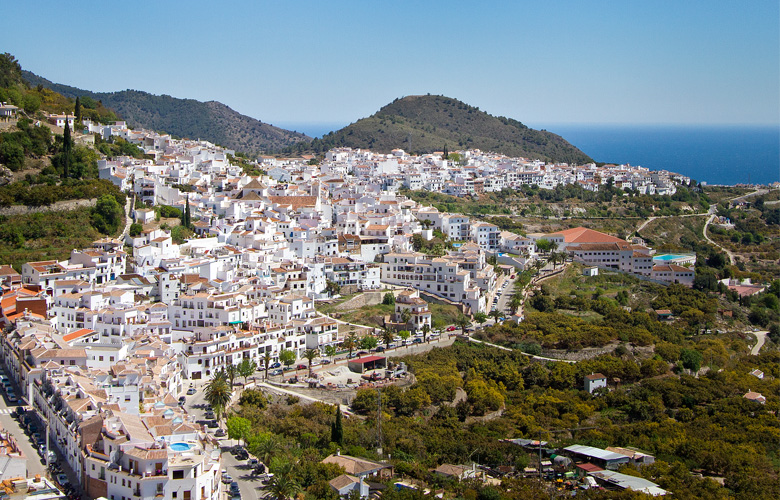 Between Sea and Mountain
From north to south and from east to west, Axarquia's marine landscape changes with the mountainous formations that make up the Sierra de Tejera, Almijara and Montes de Málaga. This change makes La Axarquía a unique area. In just one day we can visit Nerja and Alcaucin, two totally different landscapes but at the same time very close together, two white villages in the whole of Axarquia.
Sierra Nevada National Park
There are few places in the world that can offer as many contrasts and as much variety of landscapes as La Alpujarra. In only 50 km of distance there is a difference in level of more than 3,000 m. to the Mediterranean Sea. There, we will find virgin landscapes, majestic mountains, picturesque villages… It is an enchanting region full of peace and tranquility.
RONDA, THE WHITE VILLAGES
The route of the white villages
Not everything in the provinces of Malaga and Cadiz are beaches, in the interior there is a spectacular rural environment, with quiet and natural environments, friendly people and beautiful white villages. There are cities that are between reality and legend, Ronda is one of them, it belongs to that chosen number of cities only comparable to themselves.