The best climate in Europe
Beautiful villa between Torrox and Nerja. As you take the beach road that joins these two towns, you will find a particular sign indicating "the best climate in Europe". The house is located midway between Torrox Costa and Nerja, only 5 minutes by car from the beach and 10 minutes from the center of Nerja. With capacity for 8 people it has on two floors 4 bedrooms, 3 bathrooms, terraces with sea views and a private swimming pool of 8 x 4 m.
The beaches of the Costa del Sol
Under these mountains we find the best coves of Torrox, like for example the beach of Vilches or the Morche, if we continue a little more we will arrive at the beaches of Nerja and in the opposite direction the marine stroll of Torrox Costa.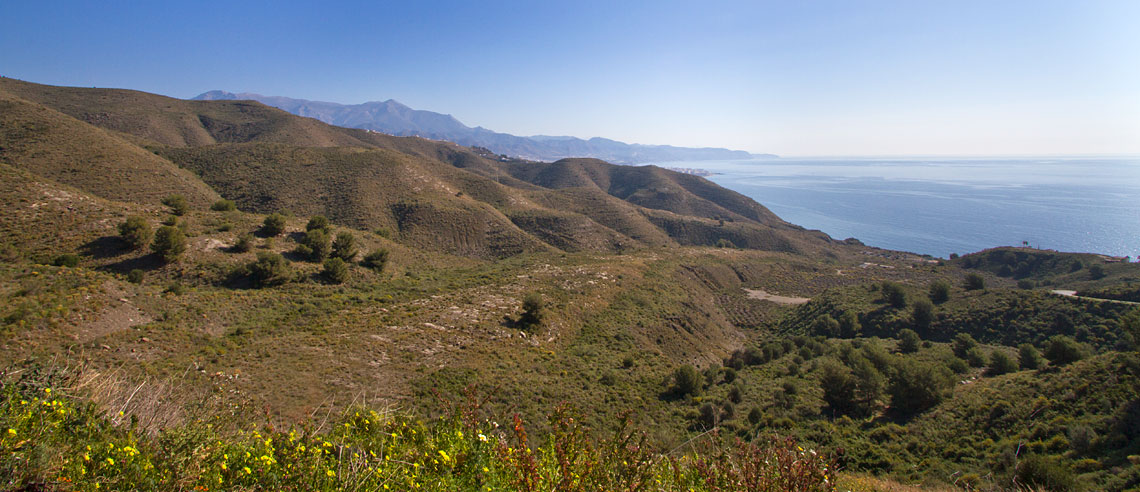 The entrance to the property
The house is located in a high position, on a hill about 300 meters above the sea. On the way up we will find some curves but without any danger, the access is perfect. Entering the Villa we observe that its elevated position offers us spectacular views to the sea in 360º. From here we can either enter the house or take an alternative path that leads directly to the pool terrace.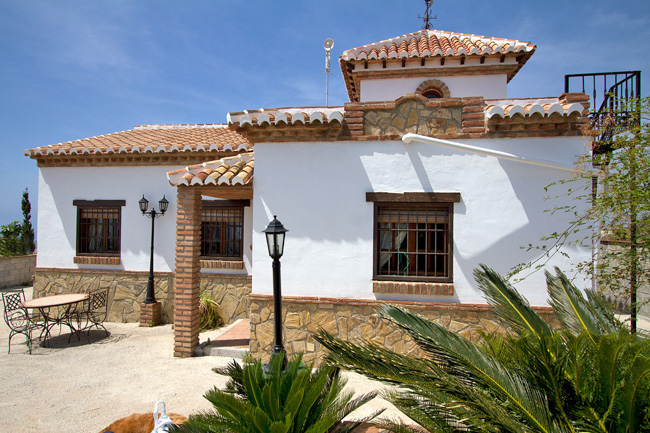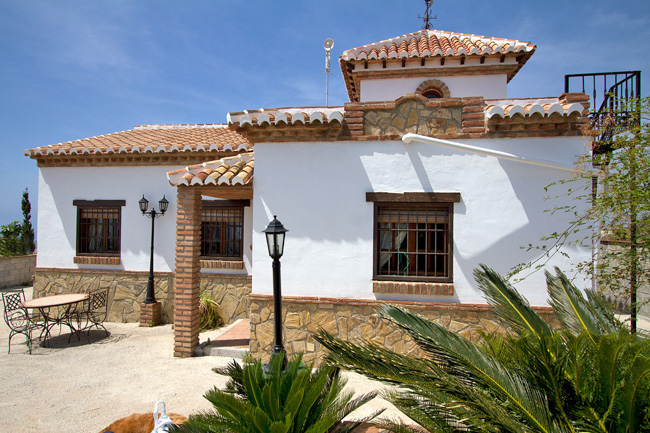 Terrace with private pool and panoramic sea views
Given the high position of the villa on the terrace we find a real viewpoint, a space with panoramic views that are lost in the sea. The terrace is very wide, to one side we find the private swimming pool with dimensions of 8×4 m with an easily accessible Roman staircase.
The terrace is fully equipped. It has hammocks and parasols, a cane pergola and a dining table. The barbecue area is on a higher level. It is made in work and covered, also it has a sink with running water for more comfort.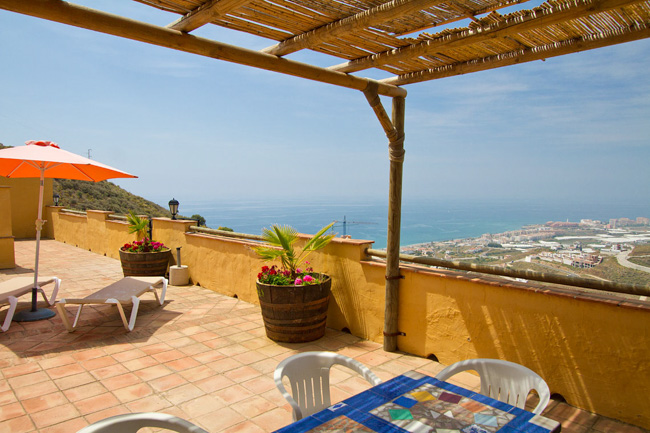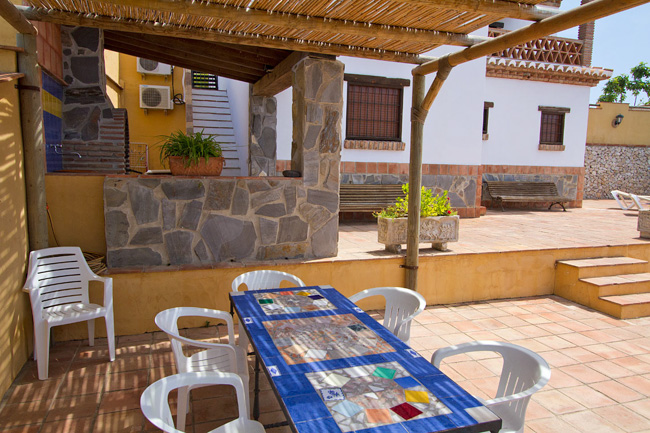 The interior of the villa
The house is distributed over two floors. Entering the first floor we find one of the bedrooms (this one with two single beds), continuing along the corridor, a complete bathroom with hydro-massage bath and another bedroom with a double bed and its own bathroom en suite.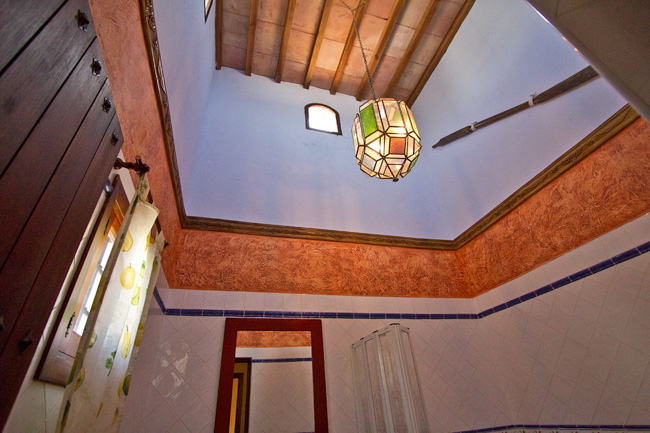 The living room and the kitchen
The corridor opens into a very large space, here we enter the living room and the kitchen. The living room has comfortable sofas, a dining table, a fireplace and a terrace that goes outside. The kitchen is semi-open, separated from the living room by an L-shaped bar. All the decoration is rustic and very warm.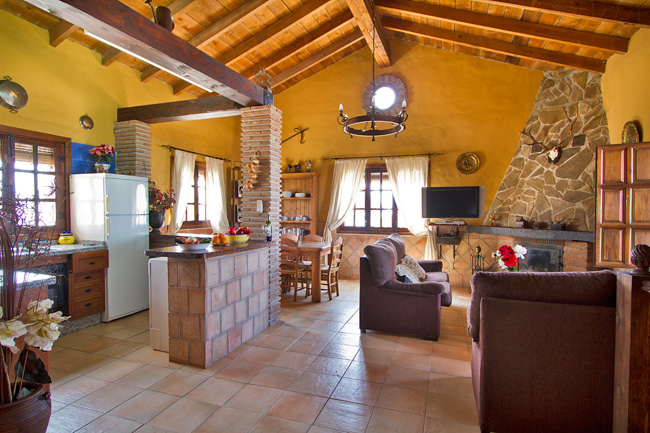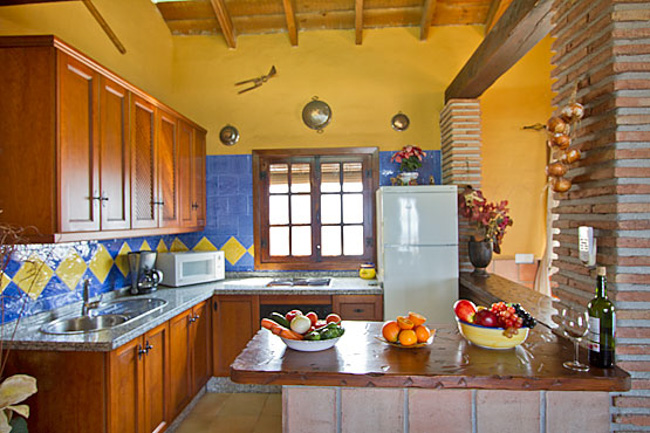 The terrace of the living room
From the lounge you can access a terrace that will leave you breathless… with outdoor furniture and beautiful views of the Mediterranean.
Downstairs there are two bedrooms, both with two single beds and a complete bathroom with shower. From this part of the house we can directly access the terrace.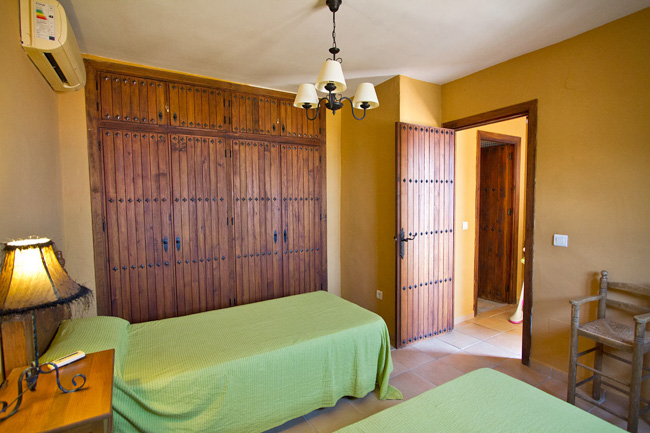 One of the jewels of the house. Going down some stairs we find a small garden and then a beautiful indoor Jacuzzi. With capacity for 8 people, the jacuzzi measures 4×3 m and has a hydro-massage system. Imagine the sensation of watching the sea while taking a relaxing bath in this marvel.

Bedrooms and Bathrooms
Bedroom 2: 2 Single beds
Bedroom 3: 2 Single beds
Bedroom 4: 2 Single beds
Bathroom 1: Toilet | bathtub
Bathroom 2: Toilet | Shower
Bathroom 3: Toilet | Shower

Exterior Features
Private swimming pool
Garden furniture
Private parking space
Private Plot
Views of the countryside
Sea views

Interior Features
Satellite TV
CD player
Internet
Air Conditioning
Oven
Refrigerator with freezer
Microwave
Toaster
Washing machine
Dishwasher
Fireplace
Sheets and towels
Terms and conditions
The additional cost for the use of the Jacuzzi is 80 Euro per week
DISTANCES AND EXCURSIONS
| | | |
| --- | --- | --- |
| Málaga | 40 min | 55 Km |
| Málaga Airport | 50 min | 75 Km |
| Granada | 60 min | 100 Km |
| Granada Airport | 80 min | 115 Km |
| Marbella | 90 min | 120 Km |
| Ronda | 130 min | 180 Km |
| Sevilla | 180 min | 260 Km |
* The distances provided are calculated from the population of the accommodation
PRICES
Season
From
To
7 Nights
January
2022-01-01
2022-01-31
890.00 €
2023-01-01
2023-01-31
February
2022-02-01
2022-02-28
890.00 €
2023-02-01
2023-02-28
March
2022-03-01
2022-03-31
890.00 €
2023-03-01
2023-03-31
April
2022-04-01
2022-04-30
890.00 €
2023-04-01
2023-04-30
May
2022-05-01
2022-05-31
890.00 €
2023-05-01
2023-05-31
June
2022-06-01
2022-06-30
1,090.00 €
2023-06-01
2023-06-30
1-15 July
2022-07-01
2022-07-15
1,550.00 €
2023-07-01
2023-07-15
16-31 July
2022-07-16
2022-07-31
1,550.00 €
2023-07-16
2023-07-31
1-15 August
2022-08-01
2022-08-15
1,550.00 €
2023-08-01
2023-08-15
16-31 August
2022-08-16
2022-08-31
1,550.00 €
2023-08-16
2023-08-31
September
2022-09-01
2022-09-30
1,090.00 €
2023-09-01
2023-09-30
October
2022-10-01
2022-10-31
990.00 €
2023-10-01
2023-10-31
November
2022-11-01
2022-11-30
890.00 €
2023-11-01
2023-11-30
December
2022-12-01
2022-12-31
890.00 €
2023-12-01
2023-12-31
Related articles
Aquí le enseñamos artículos relacionados con el destino
El Acebuchal is a lost village in the geography of Andalusia, a mysterious and beautiful place to wander and get lost in. I discovered it by chance years ago and now it has flourished with an extraordinary restoration work. A magnificent hidden paradise

La Axarquía, between the sea and the mountains. La Axarquía is a mountainous landscape with olive trees and vineyards, valleys with mangoes and avocados, white houses coloured with flowers, beautiful beaches in Mediterranean style and above all good people. A wonderful destination.