Charming rural house in the Sierra de Grazalema
Rural house in the Sierra de Grazalema surrounded by nature in a private estate of 7,000 m2. It has 3 bedrooms, 2 bathrooms, a private swimming pool of 8×3.5 m and beautiful gardens. Grazalema is an essential visit within the route of the White Villages. It is situated between the majestic mountains of the natural park and is an ideal area for nature lovers and outdoor sports enthusiasts.
In the heart of the Sierra de Grazalema
Once we get into the area and approach the accommodation we see how the natural park begins to show us the peaks and canyons, as well as vast forests of virgin nature. The road that takes us to the accommodation is mountain road, but without any danger.
Within a natural environment
The rustic style house is in a real natural setting, set among mountains and surrounded by green vegetation. It is a really special accommodation because of the atmosphere and the sounds that flow from the small river that passes just a few meters from the house.
This villa in the Sierra de Cadiz, built on a private plot of 7,000 m2, offers a wide variety of fruit trees, which in season we can taste pears, apples, cherries, oranges, lemons, medlars or plums, a real pleasure for the visitor.
Distribution of the exteriors
The distribution of the exteriors is simple. A big porch governs the entrance, this one has a first quality dining table, barbecue of work and it is next to a special wood oven in which we will be able to make bread or even a good roast.
There are beautiful details worth mentioning, such as a swing with beautiful cushions, a wonderful well or a reading bench sheltered by the vegetation.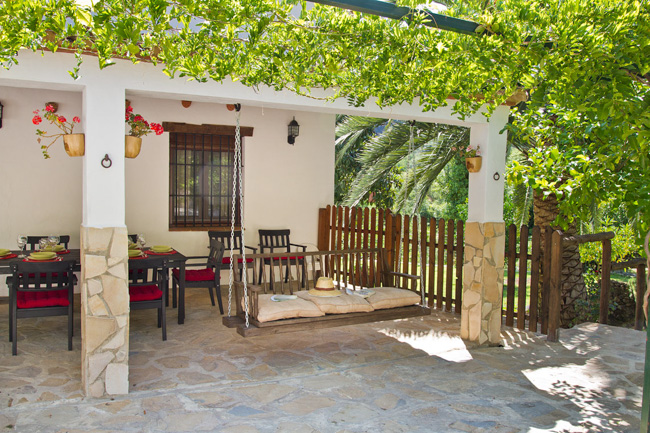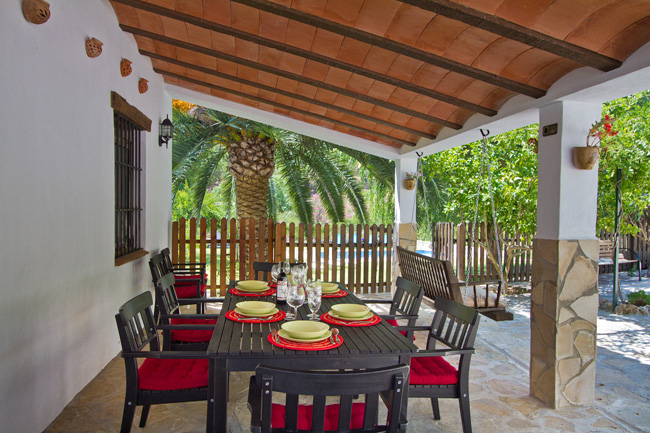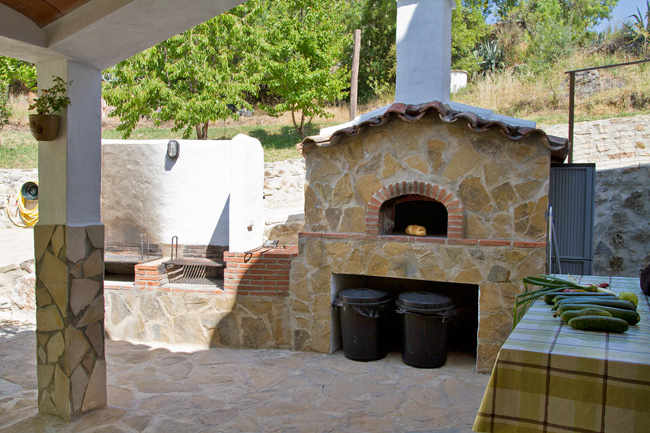 The terrace has about 300 m2, which includes the pool area that is maximum relaxation, with gardens with grass, trees, tropical plants and other native to the area.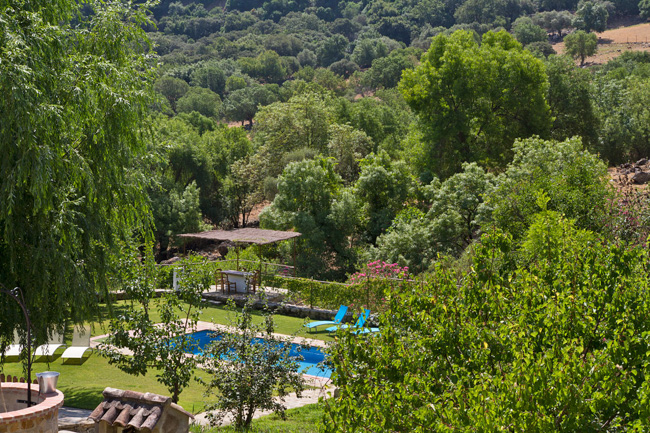 Inside the terrace we find a small porch ideal for lunch, as there are times when the little ones do not want to leave the pool and so we can keep an eye on them. The access to the terrace that borders the house is totally fenced for more security.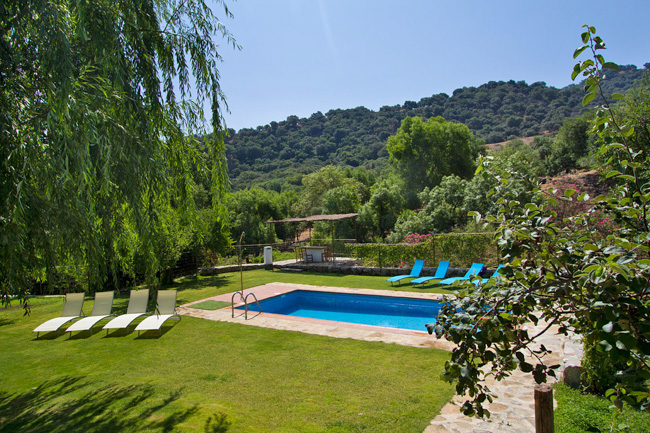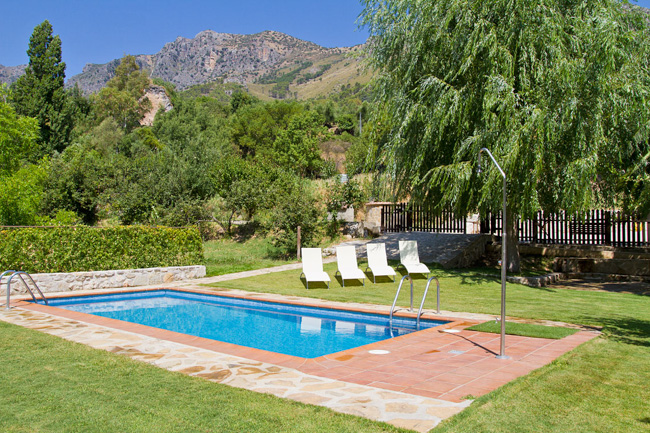 The river is just a few meters away
The river that passes just a few meters from the pool is a joy, the sound, the coolness of the atmosphere, the relaxing atmosphere and the feeling of well-being make this accommodation unique.
The interior of the house
The accommodation is distributed in two floors, in the first one we find a wide lounge, the kitchen and a bath. The living room has two sofas, a dining table and a high table for informal tapas. The ceilings at different heights are covered with wood and there is a large fireplace. The downstairs bathroom has a shower tray. The decoration is of rustic style, very warm and cosy.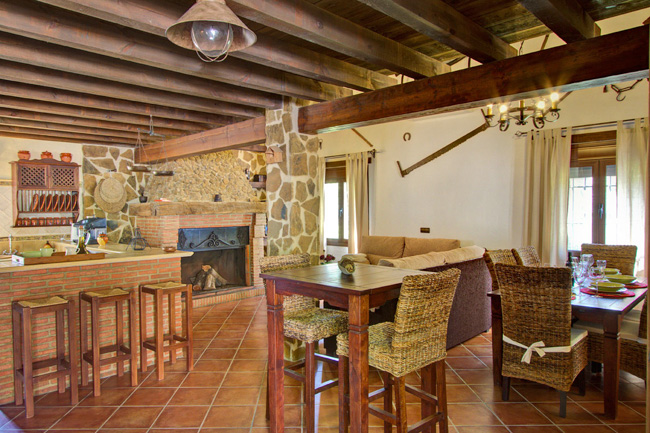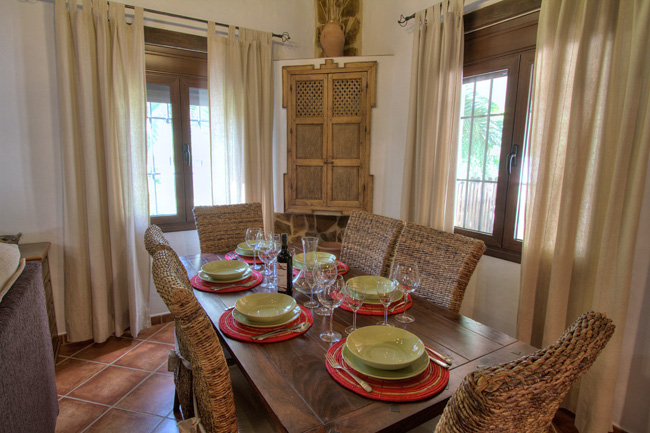 The kitchen is open to the living room and has all the necessary appliances to make your meals and dinners.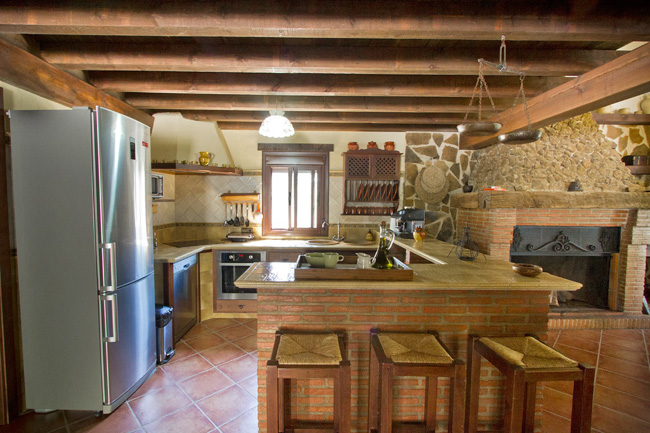 On the first floor there are three bedrooms, two of which have double beds, the other has two single beds and a loft with another accommodation for one more person. All three bedrooms have air conditioning and built-in wardrobes.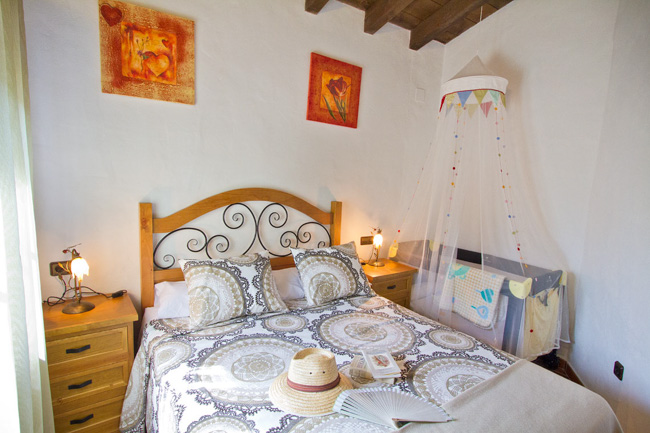 Bedrooms and Bathrooms
Bedroom 2: 2 Single beds | Extra bed
Bedroom 3: Double bed
Bathroom 1: Toilet | bathtub
Bathroom 2: Toilet | Shower

Exterior Features
Private swimming pool
Fenced swimming pool
Garden with lawn
Garden furniture
Private parking space
Private Plot
Views of the countryside

Interior Features
Satellite TV
CD player
Internet
Air Conditioning
Oven
Refrigerator with freezer
Microwave
Toaster
Washing machine
Dishwasher
Fireplace
Sheets and towels
DISTANCES AND EXCURSIONS
| | | |
| --- | --- | --- |
| Málaga | 105 min | 129 Km |
| Málaga Airport | 105 min | 130 Km |
| Cádiz | 95 min | 127 Km |
| Ronda | 40 min | 30 Km |
| Sevilla | 95 min | 110 Km |
* The distances provided are calculated from the population of the accommodation
PRICES
Season
From
To
7 Nights
January
2022-01-01
2022-01-31
700.00 €
2023-01-01
2023-01-31
2024-01-01
2024-01-31
February
2022-02-01
2022-02-28
700.00 €
2023-02-01
2023-02-28
2024-02-01
2024-02-29
March
2022-03-01
2022-03-31
700.00 €
2023-03-01
2023-03-31
2024-03-01
2024-03-31
April
2022-04-01
2022-04-30
700.00 €
2023-04-01
2023-04-30
2024-04-01
2024-04-30
May
2022-05-01
2022-05-31
700.00 €
2023-05-01
2023-05-31
2024-05-01
2024-05-31
June
2022-06-01
2022-06-30
850.00 €
2023-06-01
2023-06-30
2024-06-01
2024-06-30
1-15 July
2022-07-01
2022-07-15
1,350.00 €
2023-07-01
2023-07-15
2024-07-01
2024-07-15
16-31 July
2022-07-16
2022-07-31
1,350.00 €
2023-07-16
2023-07-31
2024-07-16
2024-07-31
1-15 August
2022-08-01
2022-08-15
1,450.00 €
2023-08-01
2023-08-15
2024-08-01
2024-08-15
16-31 August
2022-08-16
2022-08-31
1,450.00 €
2023-08-16
2023-08-31
2024-08-16
2024-08-31
September
2022-09-01
2022-09-30
850.00 €
2023-09-01
2023-09-30
2024-09-01
2024-09-30
October
2022-10-01
2022-10-31
700.00 €
2023-10-01
2023-10-31
2024-10-01
2024-10-31
November
2022-11-01
2022-11-30
700.00 €
2023-11-01
2023-11-30
2024-11-01
2024-11-30
December
2022-12-01
2022-12-31
700.00 €
2023-12-01
2023-12-31
2024-12-01
2024-12-31
Related articles
Aquí le enseñamos artículos relacionados con el destino
El Acebuchal is a lost village in the geography of Andalusia, a mysterious and beautiful place to wander and get lost in. I discovered it by chance years ago and now it has flourished with an extraordinary restoration work. A magnificent hidden paradise

La Axarquía, between the sea and the mountains. La Axarquía is a mountainous landscape with olive trees and vineyards, valleys with mangoes and avocados, white houses coloured with flowers, beautiful beaches in Mediterranean style and above all good people. A wonderful destination.